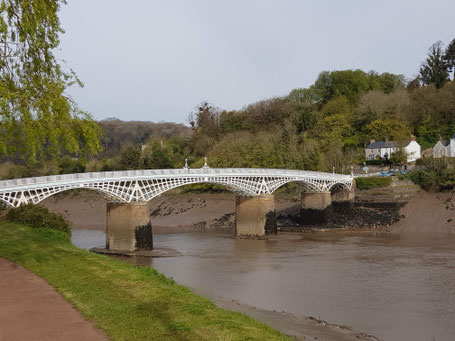 It was a long way to go from Chepstow, with its border-crossing bridge and old castle but the uphill and downdale road to Raglan was beautiful in the Spring sunshine. From there we headed up the nearly complete Heads of the Valley road, generously funded by the European Union, towards Merthyr Tydfil with spectacular views south down the valleys over the old pit towns of Ebbw Vale and Tredegar. At Merthyr we turned up the valley towards the hills and the Brecon Mountain Railway that starts at Pant. 
---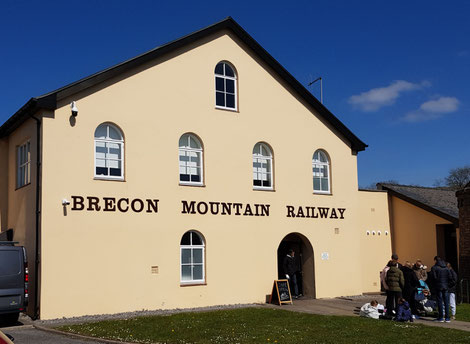 The people at the ticket office were most helpful and directed us up a slope past an engine repair shed towards the platform where our train was standing. The train was made up of a number of passenger cars, an old guard's van or caboose, with a turret on it for the guard to see forward, and a smallish steam engine of German origin. We were some of last people to join the train so (fortunately as it turned out) had to travel in the caboose – now used for carrying any wheel chair passengers.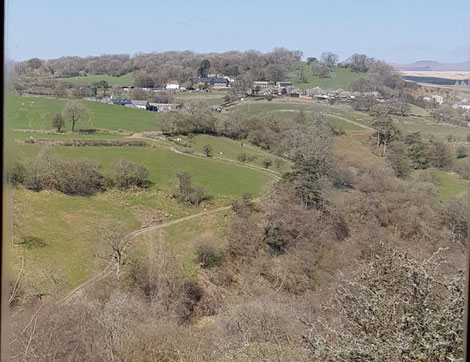 The narrow-gauge railway begins on a hillside overlooking the rolling farmland around Pontsticil and runs some miles up into the hills, in part alongside a reservoir that feeds down into Cardiff. Someway along the reservoir was a Halt where the train stopped for lunch - a delightful place.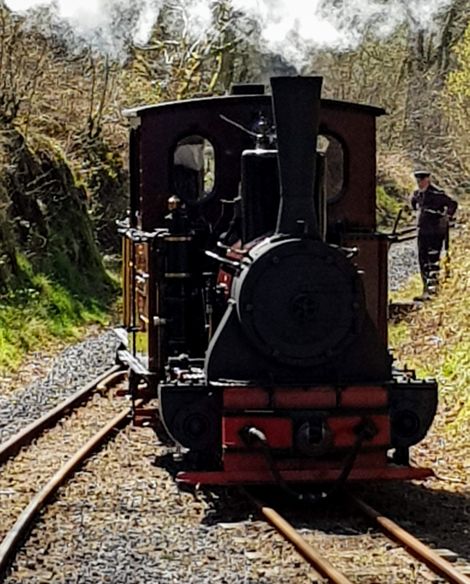 For the journey back, the engine came to the caboose – gving a full-on experience of a steam engine! People in the Caboose were stirred to happily recall stories of Ivor the Engine, especially the one with the dragons! We rattled along the whole journey bathed in gentle sunshine dappled by the trees at the edge of the line. 
---
We returned to Chepstow over the wild hills beyond the reservoir, eventually came down to Talybont-on-Usk where we found a lift bridge over the canal from Monmouth to Newport … and a relaxing cream tea.  In the glow of the evening we rambled back over some more hills, common lands with radio masts and sheep and people wandering on them, while enjoying the peaceful views of well-tended farm land far below. April 2019