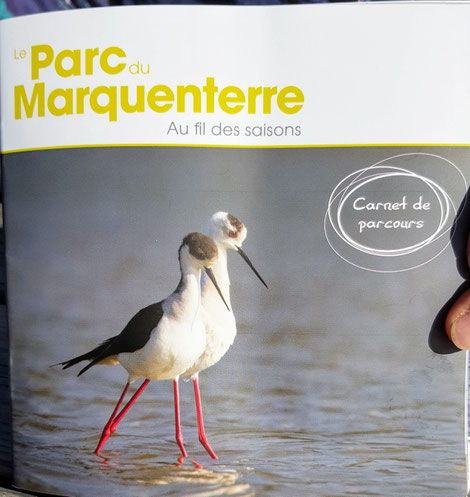 One of the most exciting birdwatching sites in Northern France is the Marquenterre - see left (Photo courtesy of Marquenterre). It is very easy to access from the main road south from Calais to Rouen (see below). Less than an hour from the Channel tunnel, if you turn west off the main A16 road near Abbeville you'll find the Marquenterre (https://www.baiedesomme.fr/lieu/1-14-5933-parc-du-marquenterre) a vast wetland nature reserve of 200ha of marsh, sand dunes and reed beds on the edge of the Baie de Somme (see photos below). This last is an extensive area of salt marsh and sea, on the Southern side of the English Channel. 
Near to the Marquenterre is the charming fishing town of le Crotoy (left) which has enormous beaches and a variety of restaurants, many of which serve very fresh seafood, and Rue (see below) a pretty town and an historic aviation site for the frères Caudron from the early twentieth century.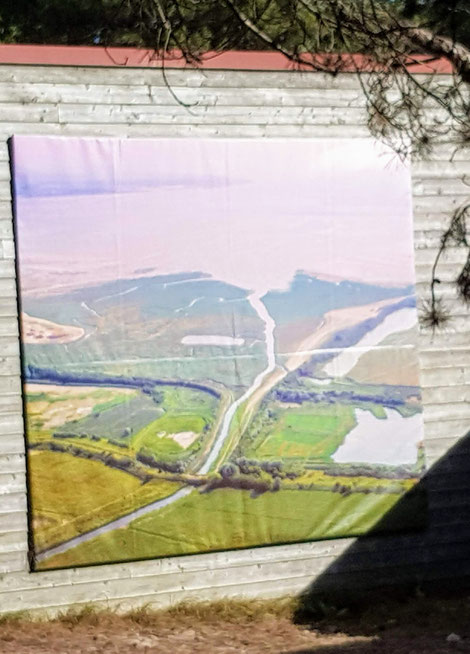 The nature reserve is beautifully managed with masses of parking space in a coastal pine forest. (see left. Photo courtesy of Marquenterre). It is a very large site with many walks of different lengths. These are clearly signposted round a variety of different ponds/ scrapes. Many have one or more hides beside them with plenty of information in each one about the different birds you are likely to see from the hide.
On one visit in later September we saw a Great Crested Grebe still feeding its young and a gang of juvenile Spoonbills practicing nestbuilding with sticks. Apparently, these Spoonbills were likely to have migrated South from Belgium and, because of global warming would probably overwinter at le Marquenterre. 
Photos of Spoonbill and Grebe courtesy of RSPB
---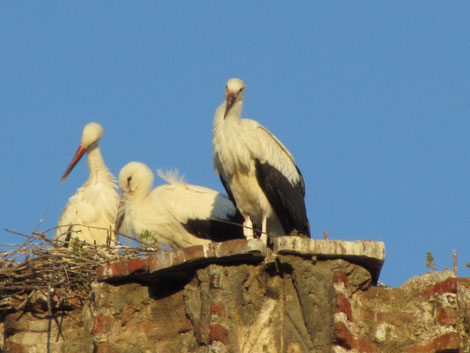 In Spring and early Summer visitors can see Storks on their nests (see left) and Cranes. Near the main building there is a huge Heronry where different types of Egrets (little egret below left) as well as Heron (see below) nest. At any time of the year you are likely to see gulls (blackheaded gulls below) and various types of duck and swans (mute swan below, right).
If you want more, a few miles South of the Marquenterre there are other bird reserves near Cayeux sur Mer and at le Grand-Laviers. The last is just off the road from St Valery sur Somme to Abbeville. It used to be an old sugar beet factory water storage reservoir but now is a quiet wooded setting with lots of good observation points around its three lagoons. 
For a relaxing experience of the Baie de Somme, people can take the little train from le Crotoy to its hub on the quayside in St Valery (left) or vice-versa, a peaceful and relaxing small historic town with its marina (below), its fishing, its interesting restaurants and shops, and its walks up past the castle (see below) and beside the estuary of the Somme (below) or along its esplanade (below) a far cry from the bloody mayhem of its turbulent past, recent as well as ancient
The Marquenterre Park & the Baie De Somme
The Marquenterre Dune Park and the Baie de Somme