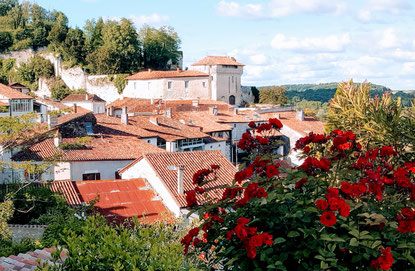 Perched on a steep-sided valley above the river Dronne, this picturesque site on the mediaeval pilgrims' route to St Jacques de Compostela, is a beautiful old town, full of character but with very little parking space. Indeed, we had to leave our car in the town park and walked to our apartment. We had a first floor apartment in part of an old 15th century monastery with beautiful views across Aubeterre from the terrace where we ate many of our meals, watching the birds swooping around the roof tops. It was a spacious, clean apartment with a well-appointed shower room and a well-equipped galley kitchen - we could cook everything we wanted to! In the other part was a Tapasseria run by a Dutch couple who spoke English, which did excellent curries as well as tapas and pizzas. No frills but a friendly service and a curry that packed a punch, if you wanted, or could be mild and tender. The dessert was a delicious pannacotta with red fruits, looking a bit like a trifle, that came with lashings of cream. It only had a limited range of drinks and wines were by the carafe but all were palatable.
Uphill from it is an ancient church with early mediaeval carvings round its door, near to a road that ran like a balcony along one side of the town and gave a good view of the ancient castle. The castle on its river cliffs dominates the town but from where nearby there are a number of pleasant country walks.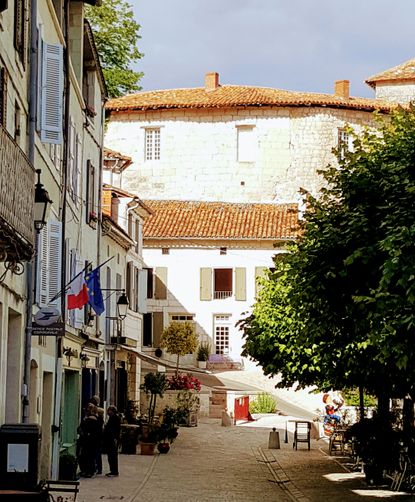 The town slips downhill to the river through several narrow streets that seem to converge on the market place where most of the necessary shops, several restaurant and bistro and a regular vegetable market, selling beautiful fresh food, can be found. We bought all we needed at the local butcher and baker on the town square and in the market held there periodically as well as at the little supermarket at the bottom of the hill. The first morning we arrived, when the market was just setting up, we had breakfast in the town square at Sel et Sucre. We finally settled on crepe and jam, as there were no croissant that morning, some baguette and, of course, some coffee. Nothing was too much trouble. So we went back a few days later in the evening and were again well looked after.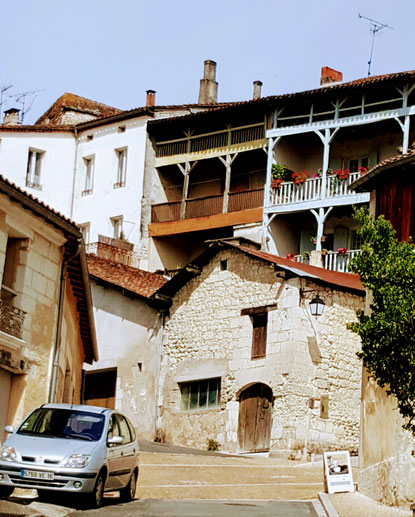 From the market square, the narrow streets then wind on down passed a Cathedral in the cliffs, directly underneath the castle. The Cathedral in the cliffs is awesome, carved out of living rock with high vaults and a not so secret passage leading directly to the castle so the lord could get to Mass without risking having to face the local population in the narrow streets of the town.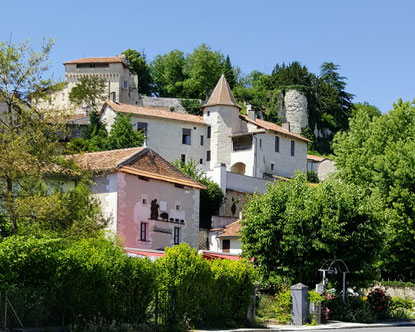 From here, after passing a few more restaurants and a small supermarket the town finally glides into the water meadows which hold sports grounds, boat hire and a camping site and provide delightful picnic and sitting sites. One of these restaurants overlooking the Dronne was La Taverne, a delightful place to sit in the evening to have an apero and perhaps a meal. One evening we had delicious starters of onion soup and salade perigourdine of smoked duck, duck gizzards, pâte de foie gras and salad. Aubeterre-sur Dronne is on the border of the departments of Charente and Dordogne. As duck seemed to be a local favourite, we also tried some pink duck breast as well as pan-fried fish with scallop and a delicious creamy sauce. The Pecharmant wine, from the Dordogne near Bergerac, was delicious and went well with the cheeses and salad, too, leading us gently to the tarte au citron dessert before wandering home to bed. - May 2017