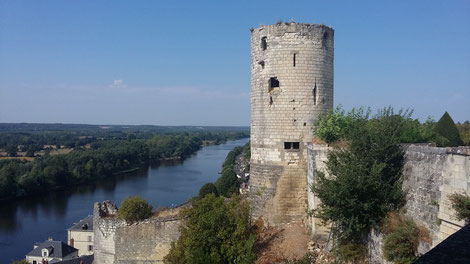 Chinon, https://www.experienceloire.com/chinon.htm the last major town on the Vienne before it joins the Loire, was a royal town for the French and the English. Here, in 1429 Joan of Arc met the Dauphin, Charles VII, who was holed up in the town and persuaded him to fight to regain his kingdom. However, the ancient château of Chinon is also said to have been the preferred residence of one of the Plantagenet kings of England, Henry II. He and his wife Aliénor (Eleanor) d'Aquitaine along with their son, another king of England, Richard 'The Lionheart' are buried not far away in the magnificent abbey of Fontevraud, a some-time prison and home to powerful mediaeval Abbesses. The chateau at Chinon was slighted by Richelieu in the 17th century because he did not want any building to compare with his magnificent chateau but it still commands some superb views and holds some wonderful treasures.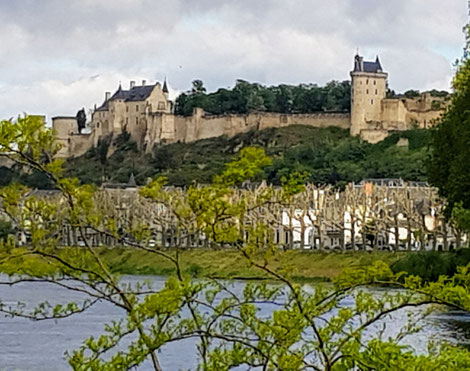 The mediaeval town huddles under the castle initially on a narrow river shelf which makes some of the roads down from the chateau to the town very steep and windy.  The mediaeval town itself has several streets of narrow, windy roads with many old houses. Some of these are wine cellars, cool in the limestone of the river cliffs, some have references to another famous resident, the author of the Life of Gargantua and his huge appetite, Rabelais, and some of which now house shops. There is also a market place near the Mairie and several restaurants, like the At'able! at the Logis Hôtel Boule d'Or where we stayed, which served delicious food and gave us friendly, courteous service. The wiggly maze of old streets makes parking difficult, but there is a town carpark with a lift up to the Chateau in it.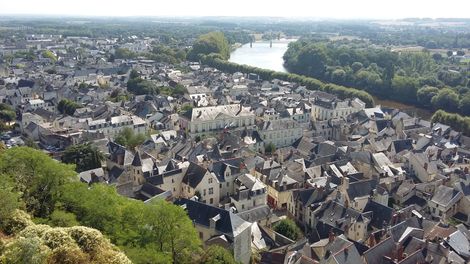 As the flat land opens out the narrow streets give way to attractive little squares as well as a large one where funfairs set up and a modern town with a relaxing park and walkway beside the Vienne. Not far away are some of the beautiful villages and chateaux of the Loire and a nuclear power station!