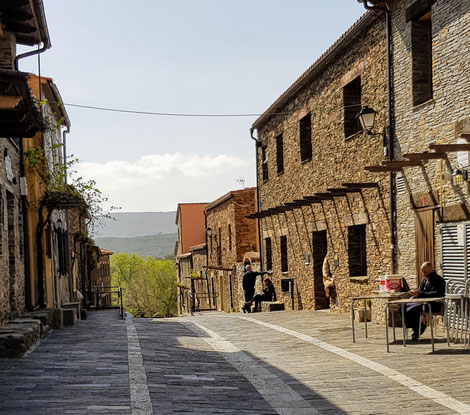 On a windy fine day in April 2018, after leaving Torrejon el Rubio, the last inhabited village in a vast green undulating landscape that forms the South-Eastern approaches to Monfrague National Park, Extremadura, we set off to explore the park's birdlife. The UNESCO recognised park, with 18,396 hectares in its core area around the confluence of the Tagus and Tielar rivers, was the first space to be protected as a biosphere in Extremadura, being declared a Natural Park in April 1979. It's habitat is gradually being restored to its natural state, as the introduced species of trees, such as Eucalyptus, are eradicated and replaced with native holme and cork oak. The biosphere supports a great diversity of fauna and flora. At its core lies a reconstructed Spanish village with tourist facilities, parking and holiday accommodation in reconstructed cottages.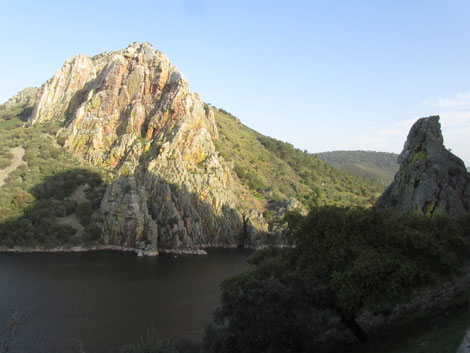 The entrance to the Park is through a narrow gorge with awesome scenery. Rounding a corner in the road, we were confronted by the towering Armorican quartzite rock face of Penafalcon (Falcon's rock) gleaming in the sunlight of a new day. We were blown away by the Jaws of Penafalcon,  the craggy cleft through which the Tagus flooded in its vast reservoir. The sheer drop from the road enhanced the grandeur of the dinosaur spine of rocks towering above us on which perched ranks of griffon vultures, warming up in the early morning sun like their ancestors, before taking flight to search for prey. In the stunted bushes on the precipitate scree below the spine of rocks, small brown birds flitted about beguiling the watchers with calls, sometimes revealing themselves as blue tits, rock buntings and great tits, but often hiding from sight.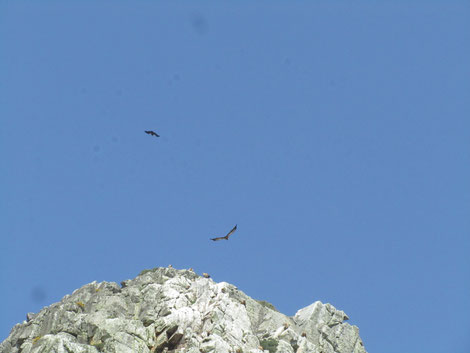 On a pillar of rock, jammed in the Tagus like a jagged tooth, a Blue Rock Thrush hesitantly clambered about, while overhead  vultures, a black kite and white storks drifted through the cleft and circled over head unconcerned by the peregrine falcon nearby. The wind-whipped watchers on the road were gradually warmed by the rising sun, too, as well as by the sight of a Bonelli's Eagle searching for food over the opposite river bank's steep-sloping scrub. Below it barn swallows and martins danced as they fed on flies above the river's banks, apparently unaware of the graceful wheeling of a black stork looking for somewhere to perch, perhaps to hunt. Late in the day as we passed back through the Jaws a Spanish Imperial Eagle drifted into view, high in the sky as we set off back to our hotel at Vinas las Torres.